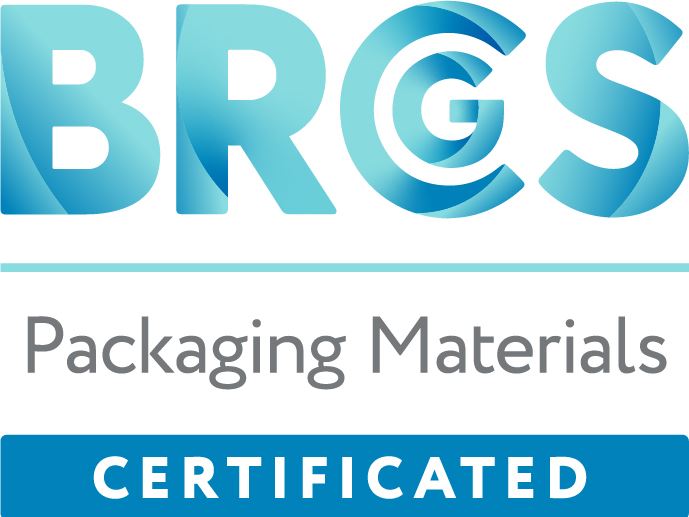 BRCGS - BRC Global Standard for Packaging and Packaging Materials
For DUCAJU, quality is not just an empty shell. It is a No. 1 priority that allows us to deliver packaging that meets the highest standards.
It is with pride that we announce that we have obtained the BRCGS certificate for packaging materials at our Erpe-Mere and Meulebeke plants for a number of years now. This demonstrates that our food safety and quality management systems meet the most stringent standards. Satisfying the BRCGS standard is not compulsory; we like to set the bar high … as high as possible, in fact. The certificate is an important label and great added value for DUCAJU and our customers alike.
What is BRC(GS)?
The British Retail Consortium (BRC) and the Institute of Packaging joined forced to develop technical standards so as to enable retailers and food manufacturers to comply with legal quality and food safety requirements. Through these standards, they demand a higher level of food production than is legally required.
The BRC Global Standard for Packaging Materials was introduced for producers of packaging materials. Its purpose? To guarantee the packaging quality and food safety.
This standard is specifically aimed at producers of packaging materials for foodstuffs. Once a production company has been certified, the correct systems and controls are in place to guarantee that the packaging is suitable and safe for both food and non-food products.
Since its publication in 2001, the BRC standard has gained wide acceptance and has been adopted by major retailers, manufacturers and packaging companies around the world.
In August 2019, the BRC Global Standard for packaging materials version 6 was published.
What does the BRCGS auditor check a company for?
The company's operations are thoroughly scrutinised. Not only its documentation, but also on the work floor. Organisations that wish to obtain a BRCGS certificate are subjected to a strict audit every year. A certificate is, therefore, only valid for one year. The perfect guarantee that a company is continuously working to meet the most stringent standards.
The standard breaks down into 6 chapters. Each of these chapters deals with all aspects of the process in great detail:
Involvement of senior management

For any packaging quality management system to be effective, it is essential that management is fully aware of the requirements and committed to implementation.
Hazard and risk management system

The basis for the programme is an effective hazard and risk analysis based on the principles of the internationally recognised Codex Alimentarius system and includes hazard analysis and critical control points (HACCP).
Product safety and quality management

Prescribes requirements for the technical management of product quality and hygiene practices, based on the principles of ISO 9000. This includes requirements for product specifications, supplier monitoring, traceability and incident and recall management.
Site Standards

Sets expectations for the production environment, including the layout and maintenance of buildings and equipment, cleaning, pest control and waste management. This includes a specific section on managing foreign objects and chemical controls.
Product and process control
This section encompasses the requirements in the product design and development phase, including quality assurance, process control and product inspection and testing.

Personnel

This heading deals with standards required for staff training, protective clothing and personal hygiene.
Why do you opt in favour of a BRCGS-certified supplier?
BRCGS-certified companies offer a better guarantee in terms of traceability, food safety and quality. You know that companies with a BRCGS certificate take these areas seriously and that this is well regulated within the company. So you can be 100% certain: choosing a supplier with a BRCGS certificate is choosing for quality and safety for yourself and your consumers.
Our raw materials
All the raw materials we buy meet the highest food safety requirements and comply with applicable EU legislation. We check this meticulously, both at our own sites and at our supplying companies and suppliers.
Cardboard
All the types of cardboard that we use for the food industry must comply with the EC 1935/2004 Regulation. (*1) This Regulation states that no harmful substances may pass from the cardboard to the foodstuffs. DUCAJU chooses the right type of cardboard for the packaging of each type of food, with the necessary substantiated certificates from the respective suppliers.
Inks
All inks used by DUCAJU comply with EC Regulation 1935/2004 (*1), GMP 2023/2006 (*2) and the REACH standard (*3). These inks are low in odour and migration and are the only inks on the market that are suitable for printing on primary packaging. We only use these types of inks in all our productions so that there is no risk of contamination by other non-food inks. All our inks, both the quadric colours and all our Pantone colours, as well as the metallic inks silver and gold, are also mineral-oil free, i.e. they do not contain MOSH or MOAH. Our inks also comply with Swiss Ordinance 817.023.21 (*5). All our ink suppliers are also members of EuPIA (European organisation of the printing ink industry) and fulfil all the necessary criteria.
Lacquers
For our printing, we only use food-safe dispersion lacquers that comply with EC Regulation 1935/2004 (*1). These dispersion lacquers have a low odour and taste transmission and consist of ecologically harmless, water-based coatings, which do not contain any harmful phthalates or heavy metals and are ITX- and benzophenone-free. Dispersion lacquers are suitable for both primary and secondary packaging. We also have dispersion paints that are suitable for direct contact with foodstuffs. Our lacquers also comply with Swiss Ordinance 817.023.21 (*5).
Supergloss or UV lacquers
Supergloss is a perfect alternative for UV, with almost the same number of gloss points. It is, moreover, food-safe and, as such, suitable for both primary and secondary packaging! Supergloss is a unique process developed at DUCAJU. If you do want a UV gloss lacquer, we can guarantee this in a safe way because we only use low-migration UV lacquers. Proper drying guarantees food-safe packaging, so the necessary number of lamp hours is carefully monitored. We also recommend using UV lacquers only for secondary packaging.
Adhesives
The adhesives we use do not contain any harmful plasticisers and are suitable for indirect contact with foodstuffs. We use these adhesives to glue folding boxes for dry, oily and humid foodstuffs. All these adhesives comply with the EC 1935/2004 norm (*1).
Windiow film
The window films we use comply with the European Plastic Materials Regulation 10/2011/EU (*4) and with the EC Standard 1935/2004 (*1) and are allowed to come into direct contact with foodstuffs. The adhesives we use on the window machine also comply with EC 1935/2004 standard (*1).
*1// Regulation (EC) No 1935/2004: The principle underlying this regulation is that all materials and articles intended to come into contact directly or indirectly with food must not transfer their harmful components in quantities which could endanger human health or bring about an unacceptable change in the composition of the food or a deterioration in its organoleptic properties.
*2// GMP 2023/2006: Commission Regulation (EC) No 2023/2006 of 22 December 2006 on good manufacturing practice for materials and articles intended to come into contact with food (GMP = Good Manufacturing Practice).
*3// REACH: REACH is a system for the registration, evaluation and authorisation of chemical substances manufactured in, or imported into, the European Union. The acronym 'REACH' stands for Registration, Evaluation and Authorisation of CHemicals. The relevant regulation (Regulation No 1907/2006) dates from 18 December 2006 and came into force on 1 June 2007.
*4// Commission Regulation (EU) No 10/2011/EU on plastic materials and articles intended to come into direct contact with food. This legislation also includes specific migration limits for hazardous substances.
*5// SWISS ORDINANCE: Swiss Ordinance 817.023.21: The Swiss Federal Government has recently amended the legislation of 23 November 2005, this amended law is in force since April 2010. It applies to materials in contact with food (or inks and lacquers printed on food packaging). The Swiss Ordinance contains many matters specific to inks, Article26g and Annex 6 contain a positive list of raw materials. Only these raw materials are allowed in printing inks with a view to complying with Swiss law. Despite the fact that this legislation does not apply in the European Union, it is becoming a standard requirement for the food industry to comply with it. It is also possible that the EU will adopt this Swiss Ordinance in whole or in part in its own legislation.
Guarantee
Food safety is an absolute necessity not only for the welfare of people and animals, but also for economic reasons. A recall can have disastrous consequences for your company. DUCAJU not only gives you the guarantee that your product arrives on your customers' doorstep food-safe, but also the assurance that each certificate issued is backed up by know-how and the use of the correct raw materials.
Would you like more information about the BRC Global Standard for Packaging and Packaging Materials, quality and food safety?
Please feel free to contact our QHSE department.